PTA & Community Teams
Scholar support doesn't end when our scholars leave the building. We work hand-in-hand with parents and community members to ensure our scholars receive the services and care they need, regardless of whether school is in session. We welcome members of the August Martin community to join us in this effort.
Meeting Schedule
When: Third Wednesday of every month
Time: 4:30 to 8:00 p.m.
Location: Room 310
School Leadership & Community Engagement Team:
4:30 p.m. to 6:30 p.m.
Parent Teacher Association & Title I Committee:
6:30 to 8:00 p.m.
SLT/PTA/Title I Meetings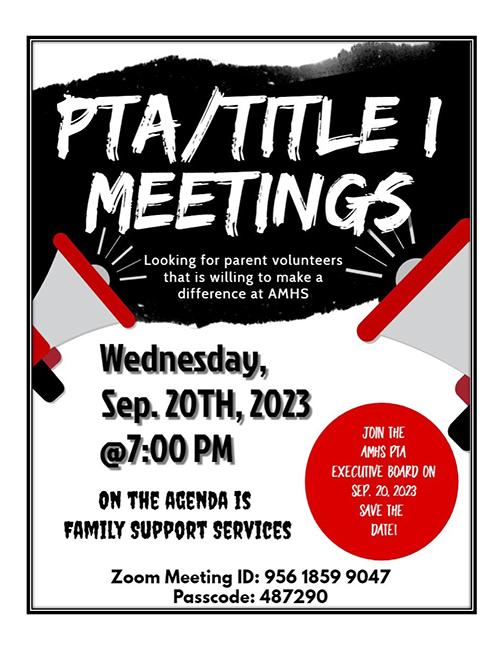 SLT/PTA/Title I meetings will take place throughout the 2023–2024 school year at 8:45 a.m., 7:00 p.m., and 7:45 p.m. on the meeting date, respectively.
Meeting ID: 972 7420 7296
Passcode: 255112
Parent Monthly Informational Meeting with Ms. Afgan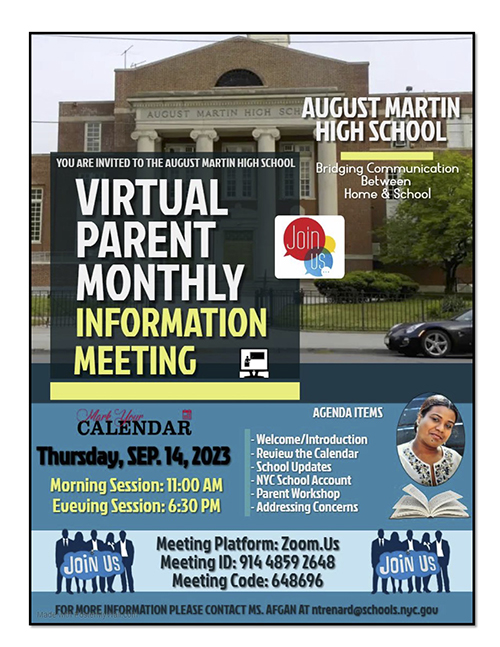 At the informational monthly parent meeting on Thursday, September 14 at 11:00 a.m. and 6:30 p.m. we will also conduct a parent and child workshop entitled Child and Parent Connectedness.
Join Zoom Meeting
Meeting ID: 337 488 6984
Passcode: 5NaGiM